movable wall partitoin maintenance and repair
Updated:2013-12-31 08:15:27
As a newly decorative products,Egood movable partition system was being more and more popular in
design industrial. They were widely used in hotel, conference room, banquet hall and etc.
Althrough movable partiton system brings so much convenience in difference situation, but many of the
users can not master the operate skill very well. So, the question is : how to better operate the partition and
maintain them? In this article, we will show you some skills about operation and some repaired maintenance
recommendation.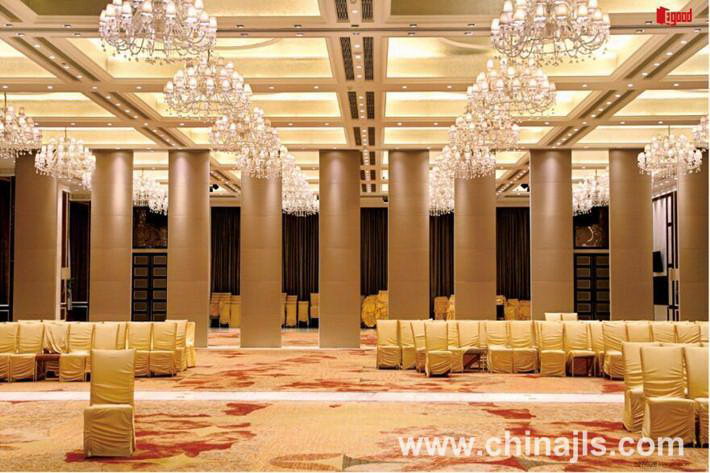 Care of Opeartion
1. Be certain to retract the top and bottom seal before moving panel, otherwise panel will be easy
damaged
2.Take care of the panel finishing during installation or operating ,the fabric and leather fabric is not easy
to clean once it be spotted or damaged.
3. Keep track alignment with all joints and intersections when install the track. Spread lightly lubricate on
track interior section before you hang up the partition.
4. Operate slowly and never force the partition panel.
5. Slowly turning every time when you make a turn at the "T" and "L" track junction
6.Not for outdoor using, put the partition panel stay away from water or moisture area
7.Use the partition according to our instruction,make sure all operator are well trained.
Some trouble shotting and repair recommendations: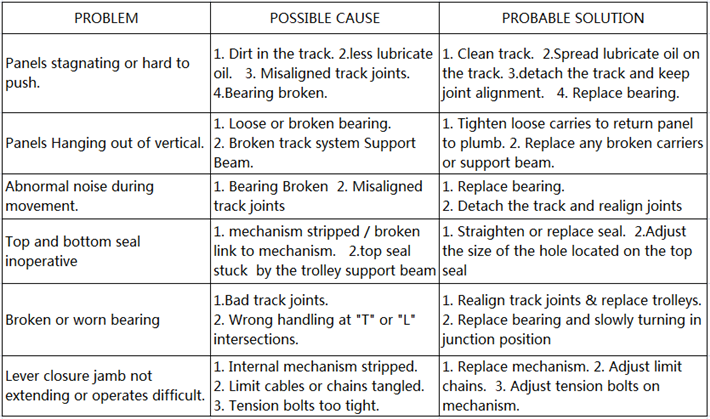 Anyway please be notied that Never force the operations of panels! When it's hard to operate,remember
keep it plumb and check the reommendation we mentioned above.Hope this article may helpful for you.